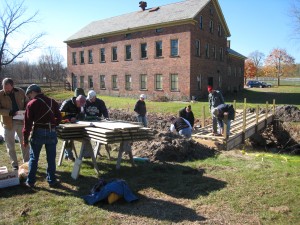 As part of a family genealogical search, I recently visited Watervliet Heritage Museum, a delightful Shaker site.  Hancock Shaker Village, and Pleasant Hill in Kentucky are likely the most familiar Shaker museums to vacationers.  These both are large, very well restored, and probably even easier to find!
The Watervliet Shaker site, actually the movement's first settlement in 1776, is a bit harder to find.  Over the years, since its closing in 1926, it's been cut up a bit by the Albany Airport, and other buildings the state of New York built on the premises.  My own paternal grandmother lived and died in the Ann Lee Retirement Home – now also closed.
The grounds are beautiful; there are several buildings to wonder through; including a really fascinating meetinghouse.  The meetinghouse contains delightful original interior woodwork.  The gift shop is also one of the largest and holds much variety.  It would be easy to imagine that if you lived in the area that you'd find yourself a member, and using the shop for your gifting needs.
The Founder, Ann Lee, is buried in the cemetery there, as is a woman named Maria Gillett.  My maternal grandmother's name was Gillett, and the entire family lived in the surrounding area as well as nearby Vermont.  And, so my purpose there actually wasn't to enjoy the grounds, but to use the documents, mostly journals, housed there, to try to find some connection.  I learned a bit more about Maria Gillett.  She joined the Shakers in 1825, living there for over 50 years.  And, when you think about it, she joined when some of the first Shakers were still alive.  Her obituary made it into the New York Times as apparently she died of a spider bite and was a grandniece of Ethan Allen.  But, alas, nothing more about my grandmother or whether the two were related.
I so wish I had been this interested in family history when I had that Gramma to sit and have tea with.  When people ask me why I'm so interested in doing genealogical work, I say because then my grandchildren will have no regrets about what they never got to ask me.
(If you want to learn more about Shakers and their history, start at www.Shakertown.net)