On Summer vacation in Maine I stopped by the Ogunquit Museum of American Art originally enticed by the ad for the Wyeth show. Which is a lovely collection of some of his emotional and mysterious works. But While there I tripped over photographer Alexandra de Steiguer's beautiful, stark, lonely and contemplative works which also spoke to my soul. And showed me the beauty of this place. The things I long for but seldom experience. (I have this fantasy of being the sole inhabitant of Cape Neddick Lighthouse , But that's another story.)
Andrew Wyeth: The Linda L. Bean Collection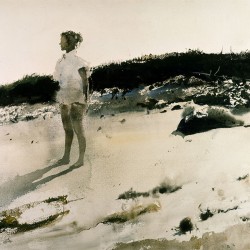 These Wyeth works reside in the collection of Linda L. Bean, a member of one of Maine's most prominent families.  Her collection, assembled over the past 30 years, includes N. C. Wyeth, Jamie Wyeth, as well as Andrew's work.  This is the first time this assemblage of paintings has ever been shown in public. This includes both a painting of the road where Andrew's father N. C. Wyeth died, the railroad tracks lay ominously around the corner just out of view. As well as sketches from the "Helga" paintings.
The Helga paintings:
In 1986, extensive coverage was given to the revelation of a series of 247 studies of the German-born Helga Testorf, Explaining the series, Wyeth said, "The difference between me and a lot of painters is that I have to have a personal contact with my models. … I have to become enamored. Smitten. That's what happened when I saw Helga."He described his attraction to "all her German qualities, her strong, determined stride, that Loden coat, the braided blond hair". Art historian John Wilmerding wrote, "Such close attention by a painter to one model over so long a period of time is a remarkable, if not singular, circumstance in the history of American art".
When the existence of the pictures was made public images of Testorf graced the covers of both Time and Newsweek magazines.Testorf, although flattered by the paintings, was upset by the publicity and controversy they provoked. Although Wyeth denied that there had been a physical relationship with Testorf, the secrecy surrounding the sessions and public speculation of an affair created a strain in the Wyeths' marriage.
Well after the paintings were finished, Testorf remained close to Wyeth and helped care for him in his old age. In a 2007 interview, when Wyeth was asked if Helga was going to be present at his 90th birthday party, he said "Yeah, certainly. Oh, absolutely" and went on to say "She's part of the family now. I know it shocks everyone. That's what I love about it. It really shocks 'em."
Andrew Newell Wyeth July 12, 1917 – January 16, 2009 was a visual artist, primarily a realist painter, working predominantly in a regionalist style. He was one of the best-known U.S. artists of the middle 20th century.
In his art, Wyeth's favorite subjects were the land and people around him, both in his hometown of Chadds Ford, Pennsylvania, and at his summer home in Cushing, Maine. Wyeth often noted: "I paint my life." One of the best-known images in 20th-century American art is his painting, Christina's World, currently in the collection of the Museum of Modern Art in New York City.
Alexandra de Steiguer: Small Island, Big Picture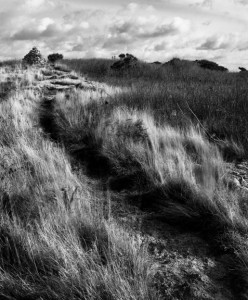 de Steiguer has spent the last 17 years as the winter caretaker on Star Island at the Isles of Shoals.  From early November through March, she is the sole human living on the island.  In her solitude she photographs the island and keeps voluminous journals while living a life of seclusion and contemplation.
Bio:
"Since as long as I can remember, my preference has been for the company of the natural world. This is where I find peace, inner strength and wonder. Simple moments there are often the most special – wind in the trees, light playing across the water...
For many years now, during the long winter months, I forego my tiny solar powered, timberframe home in the woods of New Hampshire and move out to the Isles of Shoals where I work as winter caretaker. This group of islands lies nine miles off the coast of Maine and New Hampshire and can be seen from the mainland on clear days. The solitude and beauty of the nine deserted islands is especially appealing to me, with its rocky, windswept, often harsh environment where nature and its forces dominate. There, the rule that man is only as significant as any other living inhabitant is more apparent. I am drawn to places that speak of this. They are getting increasingly hard to find in this crowded, hectic, modern "safe" environment in which most of us live.
I also worked as professional crew aboard traditionally rigged sailing vessels (tall ships) for many years. These ships were engaged in research and sailing school programs and each voyage was at least six to nine months long. Most of the nautical works on this website, I made aboard "Ernestina." Built in 1894, she was a former Gloucester fishing schooner and arctic research vessel, and she remains a beautiful and sea-worthy ship to this day. During one of our memorable trips, she was caught in the hurricane of 1991, which has become popularly known as "The Perfect Storm". At the time, we were about 300 miles offshore, headed for Bermuda and then transatlantic to islands off the coast of Africa. We spent difficult, sea tossed days trying to skirt the worst of the hurricane while repairing nearly everything that could break or break down, including rigging, navigation systems and our main engine. The camera does not capture well the reality of the sea at its worst, so I have no images of the storm itself except those that exist in my mind. Instead, I offer those of a calmer nature which I believe hearken back to a time of greater simplicity and greater courage."
 Museum History:
Henry Strater and the Ogunquit Museum of American Art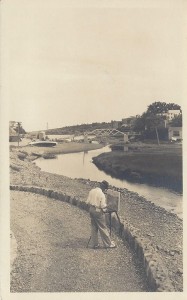 Henry Strater first came to Ogunquit in 1919 to study at Hamilton Easter Field's Summer School of Graphic Arts.  After success as a painter and years in Paris as part of the Lost Generation, he built a permanent home in Ogunquit in 1925. In the early 1950s he purchased an oceanfront spot that generations of painters had come to know as Narrow Cove, and chose architect Charles S. Worley, Jr. to design a museum.
The Museum of Art of Ogunquit, as it was called until 1992, opened in 1953, and the collection grew rapidly with select works by artists associated with Ogunquit's famous art colony of the early 20th century.
Today, the Ogunquit Museum of American Art houses a permanent collection of important paintings, sculpture, drawings, prints and photographs from the late 1800s to the present and is the only museum in Maine devoted exclusively to the exhibition, preservation and interpretation of American Art.
This Museum has five galleries, beautiful outdoor gardens and statutes, as well as a spectacular glassed view of the cove and ocean beyond!