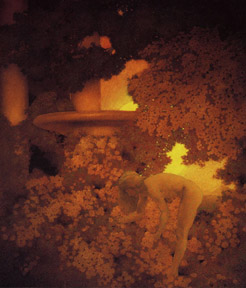 *Illustrating the Imagination: Celebrating Children's Illustrators From the Cornish Colony and Today*
(through March 28th
The Cornish Colony was a community of artists and creative individuals founded in 1885 by a lawyer from New York named Charles Cotesworth Beaman. He soon convinced his friend Augustus Saint-Gaudens, one of the premier sculptors of the day, to rent a second home in Cornish, New Hampshire. After Saint-Gaudens made Cornish his summer residence, many of his friends and colleagues followed him to Cornish, and informally created the Cornish Colony. Despite its name, the Colony quickly overflowed the boundaries of Cornish and went on to also include the towns of Windsor, Vermont and Plainfield, New Hampshire.
A wide variety of individuals, from artists to poets to politicians, called Cornish home for at least part of the year, one of the more well known and well represented in the museum is Maxfield Parrish.
*Note after seeing the Exhibit*
The new curator of the museum has done a bang up job in organizing
3/4 of the museum with some of the top names in children's book illustrators.
Cornish Colony Museum
147 Main St., Windsor, VT.
(802) 674-6008