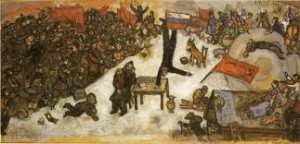 Chagall: Love, War, and Exile
, for the first time in the U.S., explores a significant but neglected period in the artist's career from the rise of fascism in the 1930s through 1948, years spent in Paris, and in exile to New York.


(If you can, be sure to download the free app before you visit! Available on iOS or Android
It is the audio tour, and will save you $5 from renting one.)
Marc Chagall (1887–1985), one of the foremost modernists of the 20th century, created his unique style by drawing on elements from richly colored folk art motifs, the Russian Christian icon tradition, Cubism, and Surrealism.Beginning with the evocative paintings from his years in France, the exhibition illuminates an artist deeply responsive to the suffering inflicted by war—often expressed with Christian imagery—and to his own personal losses and intimate sorrows. The exhibition includes 31 paintings and 22 works on paper, as well as selected letters, poems, photos, and ephemera.Escaping the hardships of Soviet life following the Revolution, Chagall moved to Paris with his wife, Bella, and daughter, Ida. During this productive period, Chagall assimilated the French artistic tradition, creating a series of portrait-like flower paintings, vibrant in color and texture.Chagall's exile from Russia also inspired work based on memories of his childhood and of the Bolshevik Revolution. Chagall depicted a cathedral that dominated the town of Vitebsk, and drew on a remembered storehouse of symbols meaningful to both Jews and Christians, presaging the Christian imagery—in particular the Crucifixion—in work to come.Like many Eastern European Jews who had fled to France, Chagall's world was threatened by Nazism. In 1941, with an invitation from Alfred Barr of the Museum of Modern Art, he and Bella escaped to New York City. With the onset of the war and this second exile in New York, themes of violence and disruption characterize Chagall's work.The most prevalent image Chagall used during World War II was of Jesus and the Crucifixion. For Chagall, the Crucifixion was a symbol for all the victims of persecution, a metaphor for the horrors of war, and an appeal to conscience that equated the martyrdom of Jesus with the suffering of the Jewish people and the Holocaust. While other Jewish artists depicted the crucified Jesus, for Chagall it became a frequent theme.Unlike his years in Paris, Chagall was never completely comfortable during his wartime exile in New York. The artist felt disconnected from the places he understood best – Russia and Paris. This feeling of alienation was compounded by a devastating personal tragedy—the sudden death of his wife, Bella, in September 1944.Chagall soon established a new relationship with Virginia Haggard McNeil, moving with her to High Falls in upstate New York. His work from this time often expresses a tension—between the memory of Bella and the new presence of Virginia—resulting in fraught but revealing compositions. Gradually, as the artist emerged from his sadness, and the horrors of war receded, the work from this period begins to reflect the more familiar Chagall, expressed in joy-filled paintings replete with intense color and levitating figures.Chagall: Love, War, and Exile is organized by Susan Tumarkin Goodman, Senior Curator Emerita at The Jewish Museum with assistance of Chagall's granddaughters: Meret Meyer and Bella Meyer . A excellent illustrated, 148-page catalogue featuring 72 color reproductions, 27 black and white illustrations, eleven of Chagall's rarely seen poems and two major essays has been co-published with Yale University Press.