The first thing you think of as walking through the Tretyakov  is "wow a collection of world art", oh wait we are in Moscow and this is all Russian art.  The reason for the double take is that the original collection of 2000 works created by Moscow merchant Pavel Mikhailovich Tretyakov in 1892 has an amazing span.  The current collection of 130,000 works goes much further and shows how Russian artists took part of every era of art.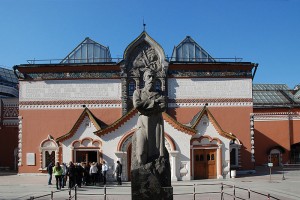 Pavel Mikhailovich Tretyakov:
The Tretyakovs liked to travel with or without children inside Russia or abroad. Every year Pavel Tretyakov used to go for a long journey.  He and his wife Vera were people of delicate feelings towards the nature, art, music. Their children grew up the same. The oldest daughter got married  to a musician and was happy all her life. The third daughter Lubov married an artist N.N.Gritsenko.  Unfortunately he died soon. In her second marriage Lubov Tretyakova became wife of Leo Bakst – a well-known artist and decorator of Dyagilev's ballets for "Russian Seasons" in Paris. Two other daughters  married sons of a prominent Russian clinical physician Sergey Petrovicha Botkin (1832-1889). Alexandra married Sergey Botkin –  a doctor and art collector, Maria married Alexander Botkin – a navy officer, physician, inventor  and explorer. Though Pavel Mihajlovich Tretyakov would prefer his daughters marry merchants, he did not hamper their choices.
He secured his family financially, but always repeated, that "money should serve better purposes, than just be wasted for everyday needs." He wrote to his daughter Alexandra: "Since my early age I knew, that acquired from the society should return to the society in some useful to it form. … Living conditions should never allow a person to live idle."  Pavel Tretyakov himself worked hard all his life and hardly ever had spare time.
…Since his youth Pavel Tretyakov was fond of music, art and theatre. Being in St. Petersburg in 1852 on business trip, he sent home enthusiastic letters with descriptions of technical innovations (railroad), but also of theater performances he had seen recently. His fascination with the art inspired and brought him to collecting art works.
In July 1853, Pavel Tretyakov acquired 11 "paintings" at Sukharevka Market, where he used to buy books. Actually, those were simple drawings.
But in the following years he acquired real paintings made in oil. Those were pictures by Old Dutch masters. Later Tretyakov would prefer only canvases of Russian artists. Those first Dutch paintings were replaced in the house of his mother in Ilyinsky Lane. Later, however, they were returned to Lavrushinsky Lane to decorate the study of Pavel Mikhailovich.
Pavel Tretyakov didn't have enough money to acquire paintings of famous contemporary artists. In 1856 he bought two pictures: "Skirmish with Finnish Smugglers" by V.G. Khudyakov and  "Temptation" by N.G. Shilder, That year and those two pictures are considered to be the official initiation of the collection.
Below you can see a small sampling of the diverse images from the collection. From the expected historical Russian portraits, icons and porcelains. To intriguing paintings of more modern times: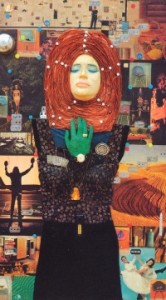 Useful links:
Tretyakov Gallery web sites:
If you are brave: http://www.tretyakovgallery.ru/
For us travelers: http://www.tretyakovgallery.ru/en/
More about the Tretyakov Gallery:
http://en.wikipedia.org/wiki/Tretyakov_Gallery  – About the Gallery
http://commons.wikimedia.org/wiki/Category:Interiors_of_Tretyakov_Gallery_(Lavrushinsky) – Images from the Gallery
http://www.flickr.com/groups/tretyakov_gallery/ 
Some other references to Russian Art: http://www.russianartgallery.org/