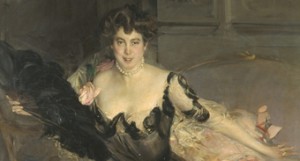 The Yale Center for British Art holds the largest and most comprehensive collection of British art outside the United Kingdom, presenting the development of British art and culture from the Elizabethan period to the present day. Together with the Reference Library, the Center's collections of paintings, sculpture, drawings, prints, rare books, and manuscripts provide an exceptional resource for understanding the story of British art.
Edwardian Opulence: British Art at the dawn of the Twentieth Centry
Recently made popular by the British television series Downton Abbey, the Edwardian period has been depicted as an indolent summer afternoon of imperial and elite complacency, a lingering coda of the Victorian era that resisted the advent of the Modern, but also as a period of tremendous and rapid political, economic, and artistic change that affected every aspect of British life. Edwardian Opulence explores issues of creation, consumption, and display through a range of objects, including portraits by John Singer Sargent and Giovanni Boldini, diamond tiaras and ostrich-feather fans, jewel-like Autochrome color photography, and a spectacular embroidered gown that belonged to the American-born Vicereine of India. Spanning divides of class and geography, the exhibition identifies opulence and leisure as driving forces for the domestic and imperial British economic engine in the early years of the twentieth century.
The exhibition includes a special program of historic sound recordings that have been selected from the Yale Collection of Historical Sound Recordings in the Irving S. Gilmore Music Library at Sterling Memorial Library. Some of the recordings relate directly to works on display in the exhibition, but the majority have been selected with broader themes in mind, such as patriotism, politics, memory, language, sentiment, and a peculiarly Edwardian sense of wistful nostalgia.
Paul Mellon, Founder
The Louis I. Kahn building that is home to the Center, and its collections of British art and books, were the gift of Paul Mellon (1907–1999), a graduate of Yale College (Class of 1929). The collections' particular strength in the art and books of the eighteenth century reflect the taste and enthusiasms of Paul Mellon.